I can't remember the last time I did a "favorites" post. My Prime Purchases posts are similar but not all of my favorite things are from Amazon. ~believe it or not~ So, I wanted to do a favorites for you and perhaps you will find something that you didn't know about. And, perhaps you haven't finished your Christmas shopping and one of these items might be "just the gift."
Michael Kors Wedge Sneaker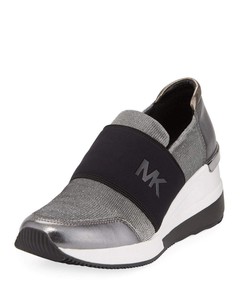 Okay, ladies, these are some of the best looking, most comfortable shoes you could own. I ran across these on one of our visits to see our daughter in Oklahoma City. I can't find these with the silver glitter but I did find the solid black pair at Dillards and they are on sale right now. So, click on the link above if you are interested. I think these with the silver went like "hot cakes" but I did not check every possible outlet and, with the awesome internet, you just may be able to find them if you so desire.



CROCK POT LINERS
Surely I have posted about these awesome jewels before. I mean, if you are a crockpot user, then you MUST have these. They are a game changer when it comes to cleaning up a crockpot. I haven't gone over to the Insta-Pot just yet so I still use a cockpot a lot. These are in the area where the ziploc bags are located.
This is a great bootie and comes in several colors. I'm a big fan of Sam Edelman shoes. These have just the right height heel and are very comfortable. I wear my black booties more than any other booties that I have.



FIX + by MAC
My niece introduced me to this wonderful stuff this past May and I've been using it ever since. It is a setting spray for your makeup and also a moisturizing spray. You close your eyes and spray it over your face after you have completely finished your makeup. It dries quickly and you are "good to go." It can be found at any Mac counter, or Ulta and probably Amazon. ~smile~
KinHwa Makeup Remover Cloths
Surely I have told you about these awesome facial wash cloths. They are the softest material and feel so good on your face. I clean my face with them first before using my cleanser. Then I use my cleanser and whip it off with these again. I've had mine at least a year and they still look brand new. And, they make a great gift!
CUTTING BOARD MATS
There are ALL kinds of cutting boards but I don't think there's any board as good as these cutting mats. I use mine all the time when chopping or cutting up something. Before I wash them I spray them with Clorox Cleanup, then wash and drain them. As you can see they come 3 to a pack.
LIPSTICK HOLDER
This is the cutest lipstick caddy. I use LIpsense and it will hold 4 tubes of them. It will hold 3-4 tubes of regular lipstick as well. And, it has the nice mirror and fits nicely inside your purse. Every time I take mine out, I get a compliment. These make nice gifts as well.
NOTE: This will be my last post until after Christmas. Family will begin arriving next Thursday and the last will leave Christmas morning. We're going to make some great memories. I'll look forward to sharing our fun with you afterwards.
Wishing you many Christmas blessings!