Saturday 9: Gotta Travel On (1959)
Another Saturday, 9 more questions and answers.


Unfamiliar with this week's tune? Hear it here.
I can't believe this song is just 7 years younger than me. Goodness, that is old!😅
I well remember this song.
1) In this song, the Billy Grammer sings that "summer's almost gone, winter's coming on." When you look out your window, do you see any evidence that the seasons are changing?
Well, I'm sad to say, no. Our yard and landscape is still in beautiful bloom.
2) He admits he has laid around and played around for too long. Do you consider lazy days to be wasted days?
I can't remember the last lazy day I had, but I do not think they are wasted days. Well, as long as you don't have to many of them and ignore the work at hand. I'm just much happier being busy, not too busy, just the right amount of busy. ~grin~
3) Billy relaxed by fishing. Tell us about a visit you made to a pier, or a ride you took on a boat, this past year. (Bonus points if you went fishing!)
Well, I'm afraid that I have done absolutely none of the above. Now, we live on a beautiful pond, just steps from our back porch. I have sat out by the pond and watched the Grans and other family members enjoy fishing this year, but, I was not a participant.
4) Born in 1925, Mr. Grammer was the eldest of 13 children. He and his wife Ruth were childless. What do you think is the ideal size for a family?
I think the size of one's family is a personal decision but for us, it was 4. We had a son and a daughter and I never desired more, so we were a happy family of 4.
5) This song was very popular on juke boxes back in 1959. When were you last in a bar or restaurant that had a juke box? Did you play it?
I know there are still places that have juke boxes but I can't remember the last time I was in a place that had one. It's been a long time ago.
6) In 1959, movie tickets zoomed up in price to $1.00 and Ben Hur was the big blockbuster. What's the last movie you saw in a theater? Do you remember how much the ticket cost?
The last movie we went to was Momma Mia 2 - Here We Go Again. I believe the tickets were $8 because we went to the matinee showing. Between the cost of the tickets and any concessions you may want, I truly do not know how young families can afford to go.
7) Huckleberry Hound was a hit with the younger audience in 1959. What cartoon did you enjoy as a kid?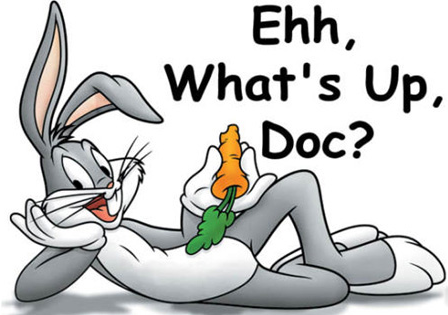 No doubt about it, Bugs Bunny.

8) In 1959, continuing dramas (soap operas) were still broadcast each day on the radio. When you turn on the radio, do you listen for talk, news, or music?
The radio in my vehicle stays on XM station 68, Escape. It is an easy listening instrumental station and I so enjoy it - so relaxing. I use to listen to talk radio and sometimes news, but they are both just a bunch of noise now and I simply cannot stand it.
9) Random question -- Which competition would you rather judge: The Pillsbury Bake Off, The Miss America Pageant, or Dancing with the Stars?
I would enjoy judging the Pillsbury Bake Off, at least it would taste a whole lot better than the other two choices. I am not totally on board with the Miss America Pageant and I sure don't know enough about dancing to be a judge. ~that's the truth~
~~~~~~

Alrighty, I'll be outta here and enjoying some time in Virginia next week. I'll catch up with you when I return. And, hey, please pray that Virginia can avoid being hit by any of the hurricane or the results of it. Ugh, could put a real "damper" on our trip.