Saturday 9: Waiting for a Star to Fall
(1988)
Unfamiliar with this week's tune? Hear it here.
I had to listen to this to remember it. I didn't recognize the name but as soon as I listened to it, it all came back. I love this song!
1) "Waiting for a Star to Fall" was literally inspired by a falling star. The singing/songwriting duo of Boy Meets Girl was at a big, outdoor concert and could have sworn they saw a falling star in the night sky. Have you ever seen a falling star?
Yes, I've seen several over my lifetime. It's amazing how big the stars are as they look so small from where we are.
2) They offered this song to Whitney Houston, who declined to record it. Whitney did have hits with two other songs they wrote: "I Wanna Dance with Somebody" and "How Will I Know?" What's your favorite Whitney song?
Not only my favorite Whitney song but also one of my favorite all time songs and I've never heard anyone that could sing, "I'll Always Love You" quite like Whitney.
3) Boy Meets Girl were George and Shannon, a husband-and-wife team originally from Seattle, WA. In 2016, Seattle was named America's most "bike-friendly city." Do you own a bike?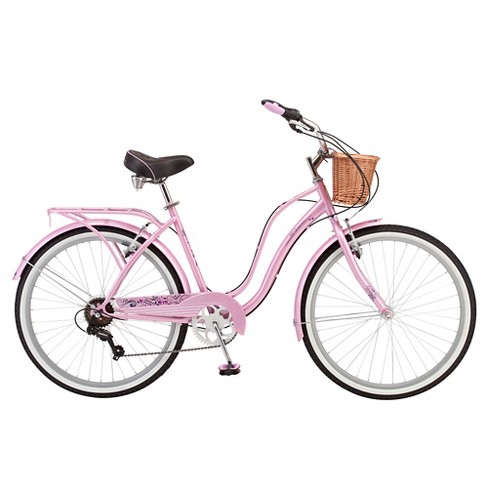 I do not own a bike and have not owned a bike since I was a child. But, if I did, I would want it to look just like the one above. A cute pink bike, can't beat that!
4) George and Shannon met for the first time at a wedding. She was a guest, he was in the band. Think of the last wedding present you bought. Was it from the bride and groom's registry?
Yes, it was and I always try to buy from a registry if one is available. I enjoy buying "a want" for someone but always make sure it is something that I like as well. I do not give gifts that I don't care for. ~smile~
5) In 1988, when this song was popular, 98% of American homes had a TV set. Today, that figure has dipped to 96%, presumably because Millennials are watching more content online. What's the last video you watched online?
I watch a Hallmark movie while I ride on my elliptical Monday thru Friday. I'm currently watching Love Finds You In Valentine on my IPad. It makes the time fly by.
6)
In 1988 saw the introduction of one of the most memorable slogans of all time: "Just Do It." Without looking it up, do you know what brand "Just Do It" promotes?
Oh, my goodness, it's NIKE! Our son was 12 years old in 1988, the year Nike coined this slogan. We were inundated with the slogan for a while.
7) In 1988, Sonny Bono went from entertainer to Republican politician when he was elected Mayor of PalmSprings. Have you ever met the mayor of your town?

Well, yes I have. Our town is very small and it isn't really a big deal to meet and to know the mayor. I guess that could be a good thing or perhaps a bad, especially for the mayor.
~big smile~
8) Michael Douglas took home the Oscar in 1988 for his portrayal of Gordon Gekko in the movie Wall Street. The American Film Institute named Gekko one of the "top movie villains of all time." Do you think bad guys are as interesting as good guys?
Their stories can be quite interesting, especially of how they came to be the "bad guys." But, I'll always be more interested in the good guys and their "claim to fame."
9) Random question: Have you ever seen a photo of yourself naked? (Baby pictures don't count.)
My goodness, what a question!!! No, no, no, I have never seen a photo of myself naked and, if I had, I sure wouldn't let you know it. But, rest assured, I have never and will never. You can take that to the bank!
We are off to celebrate this sweet girls 4th birthday this morning. This is her first birthday to celebrate with friends and she is so excited she can hardly stand it. She's been looking forward to today for a couple of months. Our sweet Andi Kate!!!