I haven't linked up with Bev and the Sunday Stealing questions in a long time, but, once again, I have time on my hands and thought I'd join in today. It's all about the Coronavirus today. As if anyone cares to hear more about it. ~smile~
1. Has the COVID-19 affected your work environment?
Well, it has my husband's insurance office. He has limited his clients to only entering his reception area. He has a wall and door where clients can usually go back to talk with one of his office representatives. Our receptionist will take payments and any service needs or new business is being done via the phone for now. He did not have hardly anyone come in the last of the week . It's certainly different and he's thankful that so much of his business can be handled via the phone.

2. How are you feeling about the Coronavirus?
My concern has definitely deepened as the days have progressed. I am not fearful but definitely want to be wise, not only for myself but for everyone. If we all do our part then hopefully we can flatten the curve and get back to our lives SOON!

3. Has anybody you know been tested / have you?
Yes, a young lady I know but she has not heard from her test so she has not been confirmed.

4. Do you have any friends stuck in any exotic locations?
Oh, NO! Thank goodness!

5. Have you changed any of your personal habits due to the pandemic?
Well, I wash my hands a lot anyway but I am washing them more, wiping things down with Clorox wipes and staying close to home. ~boo hoo~

6. What is the craziest thing you've seen or heard about the outbreak?
I saw some college kids interviewed on TV while they are on Spring Break at the beach. They were so nonchalant about the virus and just really showed their ignorance and lack of concern for themselves or anyone else.

7. Do you think our politicians are doing enough to curb the crisis?
I really do. I look forward to the President's health task force report everyday. Those folks are looking so weary and worn and I believe are doing a stellar job.

8. Have you stockpiled anything because of the crisis?
No, I generally keep plenty of everything that folks seem to be hoarding right now. I did buy one extra carton of milk and one extra loaf of bread the other day but no hoarding here.

9. What do you think you will miss the most if you are subject to a lock in?
Oh, without a doubt, socializing!!!

10. What is the weirdest rumor you've heard about the virus?
Drinking bleach will cure you. I saw that on the internet and thought, well, guess that true because it would kill you and you would definitely be cured. ~so stupid~
11. Do you have a favorite meme about the virus?
Street socializing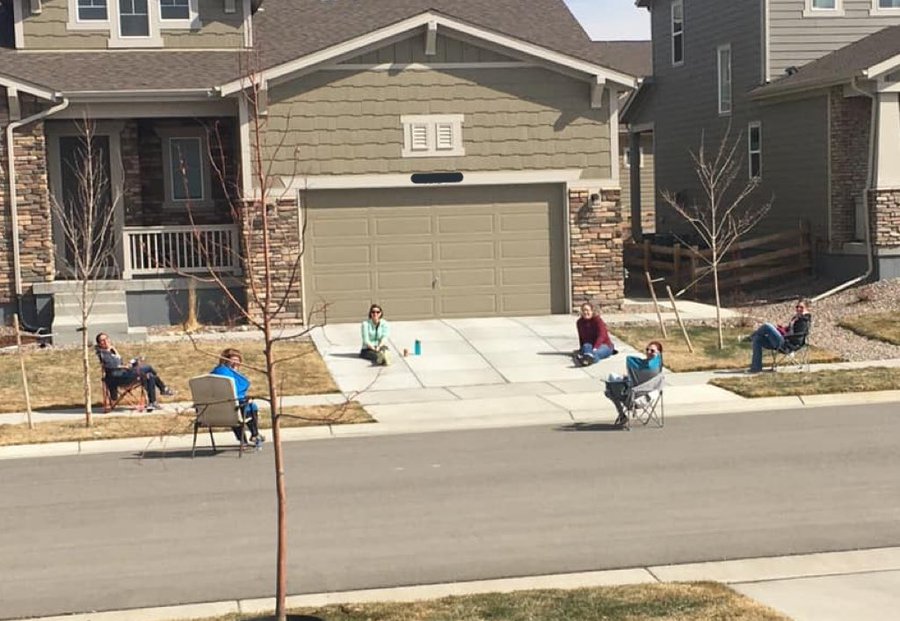 12. Has the virus made you grateful for anything?
Indeed, for many things but knowing that I serve a God that has me in the palm of His hand and He will see me through is the Number 1 thing.

13. Have any of your plans been upset by the outbreak?
Yes, we were suppose to be at our daughter's in Oklahoma this past week. But, knew that was not a wise decision and sadly decided to stay at home. And, several other meetings and events that I would have taken part in have been cancelled.

14. Are you planning do to anything different because of the COVID-19 outbreak?
Well, my days have been sooooo different with this outbreak. I am generally out and about a whole lot and that has come to a screeching halt. We did not attend church last Sunday nor today and likely won't for a few more weeks to come. But, thankfully, our pastor is streaming his messages live and we are worshiping that way. Yes, yes, life is sooooo different!

15. What do you hope to see in six months time?
We're all back to normal, a vaccine has been successfully created for this virus and our nations economy is on the road UP!

16. Has the Coronavirus upset your mental health in any way?
Humm....... I don't think so, just trying to deal with it responsibly and hoping it's over SOON!!!
Blessings abundant!!!