Saturday 9: I Learned from You (2007)
... Because it's Father's Day weekend.
Unfamiliar with this week's tune? Hear it here.
I have never heard this tune. And, I'm not a fan of Miley or her Dad. I think they could use their influence in a far better manner. ~just sayin'~
1) This song is a duet by the father/daughter team, Miley and Billy Ray Cyrus. Is your family musically inclined?
Somewhat I'd say. I took piano lessons for 8 years but I have not played in years and years, so not sure if I could find middle C at this point. ~smile~ I also took voice lessons and enjoyed singing until a few years ago and my voice began suffering from the effects of acid reflux. I know, that's so crazy but it is true and you can ask any Dr. I went to the ENT a few years back to find out why I couldn't really sing anymore and why my voice was hoarse and he told me that I was dealing with the effects of AF. Good grief!
My oldest brother is an accomplished guitarist and he and I use to entertain for banquets and such when we were in high school. Those were some wonderful times for us. We both sang and he accompanied us on his guitar. It's sad that I rarely see him now.
Picture taken just before my Mom's death in 2008
Without a doubt, my parents have had the biggest influence in my life. Now, the Lord has been so gracious to place some awesome folks in my life as well. Each of those that have had and continue to have great influence in my life have brought different things into my life. I will be forever grateful for this combination because all of these have made me who I am today.
3) Miley's given name is "Destiny." Her nickname as a baby was "Smiley," which is where Miley came from. What's something that can always be depended upon to make you smile?
We have a 10, 9, 4 and 3 year old grandchild and another one coming in Sept. These 4 1/2 little blessings can bring a smile about as quick as anything I know.
4) Miley's father, country singer Billy Ray Cyrus, has 5 children in addition to Miley (6 in all). Are you the oldest, the middle or the youngest sibling? Or are you an only child?
Picture taken at my Mom's visitation - 2008
I am the oldest of 3. I have a brother 3 years younger than me (on the left) and my other brother (standing next to me) is 12 years younger than me. We more than likely fit the description you often read of birth order. ~smile~
5) Sam's own father often traveled for business, and always remembered to bring her the little complimentary soaps, shampoos or body lotion he got from the hotel. Tell us about an inexpensive but treasured souvenir from a trip you've taken.
I found this piece of handmade pottery in a shop in Williamsburg, Va. about 4 years ago. It is a gorgeous piece that I definitely treasure.
It looks great on this table in our hall and it represents the good time I had with my extended family on that trip and of course, it represents my birth state. As to inexpensive, well................
6) Back when Sam was in high school, it was her father who gave her driving lessons. Are you patient when teaching someone something new?
Well, I cannot tell a lie...........no I'm probably not the most patience person when teaching someone something new, especially on the computer. I can be patient in other areas but not in this one.
7)
Sam's father is easy to buy for: every year he wants a new pair of loafers, so every year for Father's Day she gives him a DSW gift card. Is there anyone on your gift list that you find it easy to buy for?
Our kids and grandkids are not that hard to buy for but that could be because I ask them what they want and they tell me. It's "easy peasy" and sometimes their Moms even send me the link to order it by.
8) For family barbecues, Sam's dad dons his "Kiss the Chef" apron and mans the Weber. What's the last thing you cooked on the grill?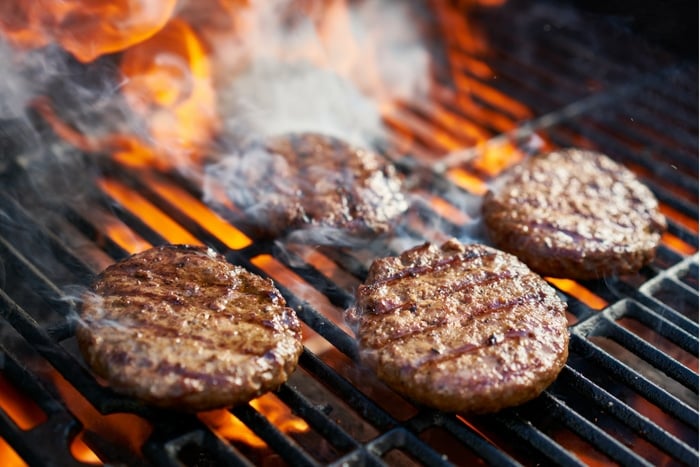 I usually grill burgers weekly for our dinner and it was the last thing I grilled and that was last week. Nothing like a good burger on a summer evening.
9) Sam's father satisfies his afternoon sugar craving with an almost endless stream of Butter Rum Lifesavers. When you crave a snack, do you usually reach for something sweet or salty?
It is always something salty! I love popcorn and generally have a bowl every night and I also love chips but I try real hard to keep a handle munching on them. I save them for my sandwich or burger.

NOTE: We'll be heading to see our Oklahoma kids this coming week so I'll be away from writing or reading blogs. But, no doubt, I'll have plenty to share upon our return.



Wishing each of you a great weekend and all the Dad's a
Happy Father's Day!