I'm likely one of the very few women who still own nylon hose/stockings (panty hose) and feel that there is STILL a place for them in a woman's life. But, I had no idea whatsoever that there was a day dedicated to them. As I've said before, I guess there must be a day for EVERYTHING!
Do you (
men don't have to answer
) ever wear stockings today? Hum.....I assume you are talking about panty hose and if that's the case then, YES, I do. Truth be told, I'm not really into bare legs at all when it comes to dressier dress. But, there is a time when bare legs are the way to go but at my stage in life, the more of my legs that are covered the better it is. ~giggle~ Hose give a woman's leg a smooth look that we can get no other way. ~just sayin'~
2. Terri can remember her mom wearing hose with the seam in the back. Do you have any memories of those? During the war, when stockings were scarce, women would draw a line on their legs to simulate wearing stockings! How far would you go to superficially fake something today?
Oh, yes, my Mother wore seamed hose a lot and it seems that at one time I actually owned some and wore them. I thought they had such a classy look . ~I know, weird~
About the only "fake" thing that I do is self tanning cream. And, I really have NOT found one that I truly like but I like it better than my scary white legs. I don't wear shorts very often and if I do they come to the top of my knee so its rare for much of my legs to show but the part that does will have the fake tan look. ~chuckle~
3. Women actually rioted after WWII because Dupont couldn't keep up with the demand for nylon stockings! Is there anything today you would riot for if the supply dried up (other than basic food and water needs)?
4. Pantyhose were first called Panty Legs. I'm sure we all have worn pantyhose at one time or another (

again, men don't have to answer

). Do you still have a pair or three in a drawer? Do you wear them?
Indeed I do! I probably have 4-5 pair and my two "go to" colors are Barely There and Barely Black. Those pretty much cover any color I might be wearing. And, yes, as I mentioned above, I do still wear them occasionally.
5. This is also

National Chocolate Chip Day

. Perhaps chocolate is something to riot for if we ran out? Joe's favorite cookie is chocolate chip. What is yours?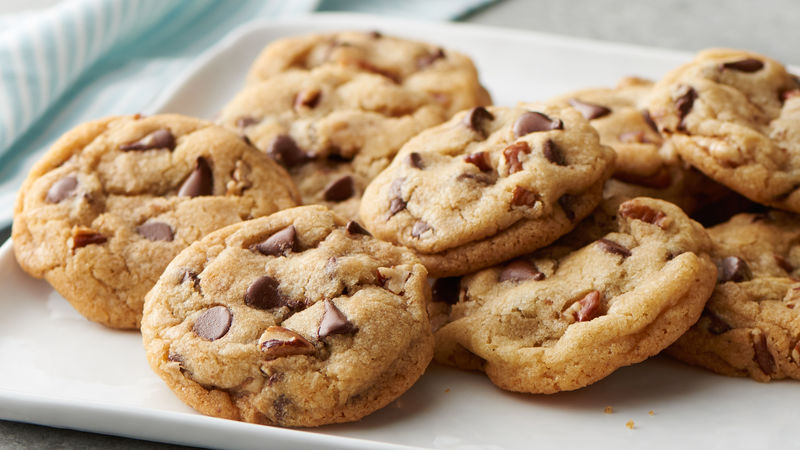 I was so surprised to read that today is also National Chocolate Chip day because I have been planning for a couple of days to bake some chocolate chip cookies TODAY. Give me a chocolate chip cookie loaded with pecans and I'm a happy gal! Today I'm going to use, at my husband's request, milk chocolate chips rather than the semi-chocolate chips that the recipe calls for. In fact, I've never seen a recipe that calls for any other chocolate chip but I'm betting they are going to be VERY good. I'll let you know!
6. Please share something with us about your week.
It has been and will be a rather laid back week. I do have a club meeting that I always look forward to and my monthly hair appointment. And, our oldest Granddaughter is spending time with us while her Mom finishes out her school year. Hanna Beth's last day was Monday but her Mom doesn't get out until later next week.


I've been doing a big clean out of my closet and that has included dusting all the shelves and drawers. I'm always amazed at how quickly dust accumulates, so, I'm so glad to have that behind me. And, I got rid of a whole bunch of scarves and shoes. I feel so liberated when I get rid of things/stuff that I no longer use or need. We can become such slaves to our stuff and I'm trying real hard to not allow that to happen. ~it can be a struggle~
And, that's it for my week!