Well, beyond the shadow of a doubt, it was a real good thing that I cancelled my trip to Des Moines and Chicago this past weekend. While our weather here in NE Louisiana was nothing compared to there, it was bitter, bitter to us. Saturday morning was in the high 50's and by 5:00 PM, it was at 38 degrees and continued to drop to the high 20's. And, we had wind at about 25+mph. Hubby and I went out for a while and were more than happy to get back home to a warm fire and a fuzzy throw.
About a month ago I got the latest IPhone, the XS Max. It really hurt my feelings to pay such a price for a cell phone but I wanted the camera and just decided to spring for it. The camera in the XS Max is, except for a few features, like having a DSLR camera at your fingertips. Well, I knew that I needed to learn everything I could about the camera and how to use the various "bells and whistles." So, I enrolled in the IPhone Photography Academy. I have already learned so much and I am only about 1/3 of the way through. It is for anyone who has an IPhone 7 or above. You take the class at your own pace and it will be available forever. So, if you are interested in learning all the "ins and outs" of your Iphone camera, you might want to check this out. There is a fee for the classes.
******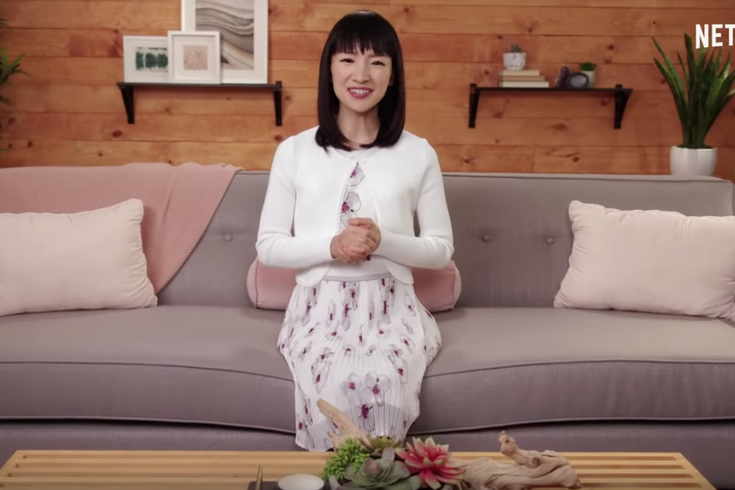 Ever since the first of the year I have been seeing posts about the Netflix series, Tidying Up with Marie Kondo. I had read so much about it that I decided to check it out while I was on the elliptical one morning. There are several episodes and I chose the one that focused more on the entire house. I watched about 15 minutes of it and decided that I pretty much had this "tidy business" under control. The family that she was helping in the particular episode had stuff and clutter all over their entire house. It made me crazy and that's when I decided that I did not need to watch it. I do have, by some standards, a lot of stuff but it is all tidy and organized. And, as she states in her series, it is a constant effort, something that you make a point to work at each and every day. And, in the process you give things away, take them to a thrift store or throw them away. Otherwise, it's easy for us to become a "slave to our stuff." If you are needing some motivation in this area then I highly recommend this series. Her main thread throughout the series is "does this bring you joy?" If it doesn't bring you joy then you need to get rid of it. But, I imagine that we all view things that bring us joy differently. And, so it goes...........
******
This Wednesday I will begin this Bible Study by Lysa Terkeurst with a wonderful group of ladies. We are such a diverse group and that only adds to the interest of the study. We have ladies my age and older and then a large percentage are young Moms barely keeping their heads above water. I have always enjoyed interacting with younger women and encouraging them along their way. I look back with so much fondness on the ladies that took me under their wings when I was right where some of these young ladies are at this time. I'm looking forward to this study that will likely speak volumes to all of us in attendance.
******
If you are looking for a One Year Bible then you might want to check this one out.
Each page has nice margins for note taking and there are images and scriptures to color in throughout, if you so desire. I read about this on another blog and wanted to share it with you. If you are into creativity and expressions then this just might be the One Year Bible for you.
******
And, I leave you with these...........
No one is in charge of your happiness but you.
Frame every so-called disaster with these words, 'In five years, will this matter?'
The shortest distance between two people is a smile.